Nobody was allowed to cross the border of the Transvaal without permits. Gandhiji led a march of 6000 Indians, men, women and children without anything except a blanket.
Gandhiji said: `We are fighting for justice, we will not harm anyone.'
It was a wonderful scene. The whole world watched it with interest.
Gandhiji was arrested. The satyagrahis were beaten and flogged mercilessly. Yet, the struggle did not stop.
At last the Indians won. The Black Act was repealed. Indian marriages were recognised as lawful. The poll-tax was abolished and all other demands were accepted.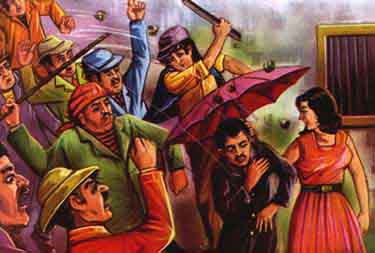 The jail life had badly affected the health of Kasturba. She was completely bed-ridden when she came out. She was now under the care of a doctor in his hospital. The doctor advised Gandhiji to give her meat-syrup, otherwise, he warned, she would die. But Gandhiji refused. Kasturba also was against taking any such thing. The doctor got angry. He said: `Quit this place if you don't want to follow my advice.' Gandhiji left at once the hospital with Kasturba.
Once, during this illness, Gandhiji asked Kasturba to give up the use of salt and pulses in food. Kasturba was not inclined to accept the suggestion. She said: `Give up salt and pulses? Even you won't like to give that up!'
At once Gandhiji took a vow: `Well, I won't take salt and pulses for a year.'
Now Kasturba was full of remorse. (She wept and said: `Please you don't take a vow. I agree to give up salt and pulses.')
But Gandhiji was firm in what he had said. He carried out his word not for one year but for full ten years.
Soon after that, Kasturba regained her health and was alright.
Gandhiji spent nearly 21 years in South Africa. He returned to India in 1915.
Then he set up an Ashram in Ahmedabad on the banks of river Sabarmati. He named it Satyagraha Ashram. He did all sorts of manual work in the Ashram with his co-workers. He would sweep the floor, work in the kitchen, clean the utensils and grind corn also. Once a pleader came to him and asked for some work to do. Gandhiji was in the kitchen at that time. He said: `Yes, here is some work for you. Please clean these food grains'. The pleader stood puzzled. For the first time he met a leader to whom all kind of work was sacred.
Gandhiji became a common topic of talks when the pleaders met in their clubs.
One of these pleaders was very bitter in his remarks. But shortly a miracle happened. The moment this pleader saw how bold and fearless Gandhiji was, he left his practice and jumped into the struggle under Gandhiji's leadership. He soon became the foremost disciple of Gandhiji. He was Sardar Vallabhbhai Patel.
It was the year 1916. Gandhiji was invited to participate in the foundation ceremony of the Banaras Hindu University at Kashi. It was a gorgeous show. Even the Viceroy had come from Delhi to attend it. A number of Indian Maharajas, bedecked in costly jewellery were present. Much was said about the poverty of India and the uplift of the poor.
Gandhiji was clad in his simple Kathiawadi dress. He made here his first great political speech in India. He spoke in English. The first words came out like a bomb-shell: `It is a matter of shame that I am compelled to address my countrymen in a language that is foreign to me."
Soon another bomb-shell: `You speak about the poverty of India and make an exhibition of jewellery. There is no salvation for India unless you strip yourselves of this jewellery and hold it in trust for your countrymen.'
Still another bomb-shell: `The country will be free not through the pleaders and the rich, but through the peasants. If we are afraid of God, we won't ever fear the Princes and the Maharajas, or the Viceroy or King George himself.'
And the last bomb shell: `If I find it necessary for the salvation of India that the English should be driven out, I would not hesitate to declare that they would have to go and I would be prepared to die in defence of that belief.'
His speech was like a powerful current of fresh air. It instilled new life in the paralyzed limbs of India. The people said: `Here at last is a man who can help us.'
Gandhiji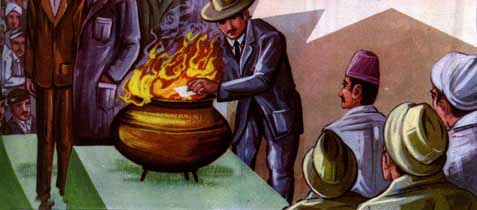 admitted the so-called `untouchables' into the Ashram. He adopted a Harijan girl named Lakshmi as his daughter. This upset the orthodox Hindus. They went red with rage and stopped helping the Ashram. Gandhiji decided to close down the Ashram for want of money. At the last moment an unknown gentleman came to the Ashram and gave him Rs. 13000/- in cash. The Ashram was saved.
In Bihar, the cultivators were forced by European planters to grow indigo. They were treated unjustly and not paid properly. They requested Gandhiji to help them. Gandhiji went to Champaran to study the grievances of the peasants. This was in the year 1917.
The European District Magistrate ordered Gandhiji to leave the district. Gandhiji refused to obey. He was summoned to the court. The magistrate said: `If you leave the district, the case against you will be withdrawn.' But Gandhiji refused to oblige.
The court-room was packed. A large crowd was outside shouting slogans. On Gandhiji's advice the crowd dispersed peacefully.
Gandhiji pleaded guilty and said: `You can send me to jail'. However the case was postponed.
This was the first instance of satyagraha in India. The whole country experienced a pleasant shock.
At last the case was withdrawn by the Government. Gandhiji was allowed to stay in the district. He visited villages, recorded statements of peasants and proved their sufferings. The battle was won.
A new wave of hopes swept over the country. For the first time the people knew that the so-called invincible British government can be challenged successfully.
Gandhiji travelled all over India. He saw the terrible poverty of the people.
At one place, seeing the dirty clothes of women, he asked Kasturba to advise them to be clean.
When Kasturba approached those women, one of them led her to her hut and said: `See, I have no other clothes. I have put on the only piece of cloth I have! How am I to wash it?'
When Gandhiji heard this tale from Kasturba, he was terribly moved. He was pained at heart, for he felt strongly for his poor countrymen. Though he was always simple in his dress, he decided to be simpler still. He gave up wearing a cap, a shirt and a dhoti too! Henceforth he wore only a lion-cloth. How could he wear so many clothes, when his countrymen couldn't get the bare minimum to protect their modesty?

Thousands of labourers worked in the textile mills of Ahmedabad. They demanded higher wages. They pledged their full confidence in Gandhiji and went on strike under his guidance.
Days passed. The mill-owners were adamant. Starvation faced the strikers. Gandhiji feared the workers would break their pledge, so he went on fast. His fast moved the mill-owners. In three days a settlement was reached between the mill-owners and the mill-workers.
Gandhiji considered it his duty to help the British. He had helped them in times of difficulties in South Africa and in recognition of those services, medals were awarded to him. During the first world war too, Gandhiji offered to help the Government and started a recruiting campaign. He worked so hard that he became very ill. He himself felt at times that he was dying. He ate nothing. He took no medicine, He refused to take even milk. Years earlier, he had vowed not to drink milk because cows were ill treated. At last, on Kasturba's persuasion Gandhiji agreed to take goat's milk henceforth.
The war was over. Germany was defeated. The British won. Gandhiji hoped that the Government would now proceed towards granting Self-Rule to India. But the Government did the reverse. It proposed to make a law to suppress the Indians. Gandhiji was still not well. From his sick-bed he declared: `This is unjust. We ought to offer Satyagraha.'
He went to Madras. There in a dream he got an idea of an All-India strike. The date was fixed April 6, 1919. The people were asked to fast and pray and stop work that day.
That was the first great awakening of India. The strike was a great success everywhere. Not a shop was open. Not a wheel turned in any factory. Gandhiji was in Bombay that day. Thousands of people bathed in the sea and moved in procession along the streets of Bombay under his leadership shouting slogans: `Vande Mataram' and `Allah-O-Akbar!' The Government had prescribed a book `Hind Swaraj' written by Gandhiji and prohibited its sale, but today, the book was freely sold in the streets. Thus the people got the first taste of civil disobedience.
The next day, Gandhiji started for Punjab. On the way, he was arrested, sent back to Bombay and then set free. The news of his arrest infuriated the people. Violence broke out in Ahmedabad. Gandhiji came to Ahmedabad. He called a public meeting in the Ashram, rebuked the people for their violence and said that he would fast for three days as a penance.
But the situation in the Punjab was very critical. A big public meeting was held in the Jallianwala Bagh in Amritsar. Thousands of men, women and children were present. Suddenly a military officer came there with his soldiers. He blocked the only exit and, without giving warning ordered to open fire on the unarmed crowd. There was no way of escape. The soldiers fired till the ammunition lasted. Hundreds were killed and wounded in this cruel massacre.
Then followed a reign of terror. The people were made to crawl on all fours. They were stripped naked and were flogged. Gandhiji was deeply moved by the sufferings of the people in the Punjab. He went there. The people flocked to see him.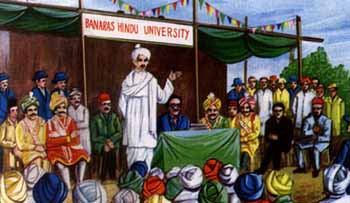 Now Gandhiji announced a programme of Non-co-operation and Civil Disobedience movement to win Swaraj within a year. `Don't co-operate with Government!' He said: `Don't serve the Government in any capacity. Quit Government services, return the titles and the honours given by the Government! Boycott its law courts! Don't buy any foreign goods. Leave Government schools and colleges and refuse to pay any taxes.'
There were meetings and processions and strikes. Students deserted schools and colleges and jumped wholeheartedly into the struggle. New schools and colleges sprang up having a national and humanitarian outlook. Huge bonfires were organised to burn foreign cloth. Lawyers gave up their practice and local panchs became local courts.
The British Government sought to pacify the Indians. They sent here their Prince of Wales. But the Prince was boycotted in city after city. He was greeted with empty streets. Not a shop was open. Government was furious. Leaders were arrested everywhere.