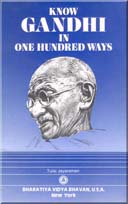 KNOW GANDHI IN ONE HUNDRED WAYS
Written by : Tulsi Jayaraman
First Published : 1983
Reprint : 1989
Published by : Bharatiya Vidya Bhavan, USA, Inc.
---
To You!
For more than fifteen years, I had been broadcasting. Programs on Gandhi, the Father of Indian Nation – in India – a thirty minute feature every fortnight. From Those programs, I recollected some of the events relating to Gandhi to be given in a nutshell so that I may be able to project, who and how Gandhi was – in my own humble way.
I hope, this tiny book will be loved by all who love Gandhi.
- Tulsi Jayaraman
January 1,1983
New York
---